Vote for our new sponsor bear
The bears we rescue arrive with us broken and abused. But thanks to your kindness and support, we mend them piece by piece...
Our sponsor bears are Ambassadors for the cause to end bear bile farming forever. They are symbols of the damage that bear farming does, but also of hope, as living examples of what can be achieved when animal lovers across the world unite against cruelty.
All 376 of our rescued bears are true survivors. Each one beautiful and special, but we only have one vacancy. Who will be our next sponsor bear? You decide...
Meet the candidates
*If you were planning to vote for Blackie today, please click here for an update.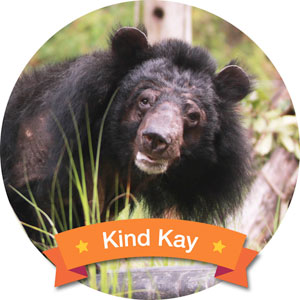 Kind Kay
Rescued: 2015
Likes: Her comfy nest, anything sweet!
Dislikes: Confrontation - she's a lover, not a fighter.
Best friends: Gloria and Autumn, all saved from the same bile farm.
Kay broke hearts across the world when she was found virtually hairless and suffering on a notoriously cruel bile farm in Vietnam.
She'd suffered as a bile machine for over ten years. Kay was in the worst shape of all fifteen bears, but calm and kind Kay still found the courage and strength to comfort the other frightened bears.
Tiny in stature, since her rescue Kay has shown she has the biggest heart. Gentle and brave, she has a calming effect on other bears and melts the hearts of her carers with her the unconditional trust she shows them, even after all she's suffered at the hands of humans.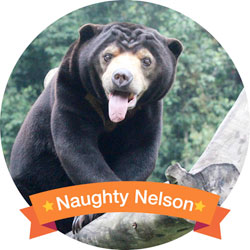 Naughty Nelson
Rescued: 2011
Best friend: David
Likes: David, sleeping on high branches, wrestling (mainly with David)
Dislikes: Not being with David
Busy boy Nelson could give pro-wrestlers a run for their money! He's a friendly chap, but he can be a bit much for new sun bears, with his exuberant and somewhat overfamiliar welcoming style!
But you can hardly blame him for wanting to have some fun. He was captured by traffickers as a cub and kept for many years in a cage no bigger than a cupboard.
Nelson and his best friend David, have the most adorable 'bromance' together.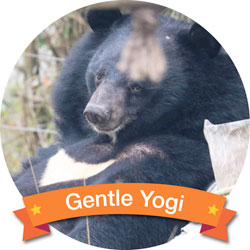 Gentle Yogi
Rescued: 2015
Best friend: Coco
Likes: Snoozing on his hammock, cuddling with Coco!
Sweet Yogi lived in a small barren cage on a bile farm in Vietnam for 15 years. When we arrived to rescue him he was extremely thin, his teeth were rotten, he was missing a forepaw and he had very sparse fur on his head from obsessively banging his head against the bars of his cage.
He and his lifelong friend, Coco, were separated only by a metal grille and after 15 years in cages side by side, they only met for the first time at our sanctuary.
They must have been an incredible comfort to each other in those dark days because now they are the very best of friends, but Coco is most definitely the boss! Ever the gentleman, Yogi is quite happy with the arrangement...

Vote for our next sponsor bear...