The Paw Print
We hope loved your April edition of the Paw Print, and reading Bear's amazing story of survival and bravery.
Some sad news...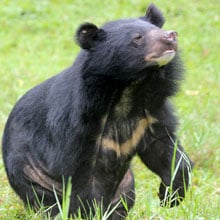 It's with heavy hearts that we must deliver some very sad news. Shortly after your newsletter was printed, Blackie, aka Itchy Bear, who was featured in your newsletter as a candidate for our next sponsor bear, passed away suddenly at our sanctuary in Vietnam.
Blackie collapsed and fell into a seizure. Despite her dedicated care team administering medication and sitting with her around the clock, her seizures would not stop and in the end, there was nothing we could do. She passed away surrounded by her family who cherished every hair on her body.
We are all shocked and heartbroken at the news. Blackie was such a shy and sweet little bear, and she adored her best friend and mentor Elise.
Blackie suffered with severe allergies, which is why she was affectionately known as our 'Itchy Bear'. Sadly, the allergy medication which was kindly supplied by our generous supporters was due to arrive next week. But it won't go to waste, and will ease the scratches of Blackie's friends who have similar skin conditions.
Although beautiful Blackie was taken far too soon, please remember that thanks to your kindness, she lived five glorious years of sunshine and joy here at the sanctuary, surrounded by love and fun… It's something she never would have experienced if not for the gifts you've sent over the years.
Here's a short video in tribute to Blackie...
Thank you so much for giving Blackie the life she'd always deserved.
If you'd like to make a tribute in loving memory of Blackie to help us fight for all her fellow bears still used in the bile trade, and the other abused animals of Asia, you can do so here.