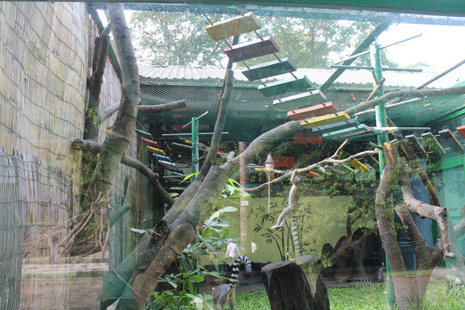 Animal welfare standards at zoos across Vietnam and China are improving following Animals Asia enrichment programmes.
As a direct result of Animals Asia's workshop held at Hanoi Zoo back in September 2013, both Saigon and Bao Son zoos in Vietnam have announced improvements to facilities.
Staff at Bao Son have added enrichment items to further stimulate animals, while Saigon Zoo has installed climbing structures in all primate enclosures (see pic above).
During the five-day workshop, expert instructors from organisations The Shape of Enrichment and Active Environment, lectured on topics including animal enrichment and staff training.
Staff from four zoos, nine rescue centres and the Hanoi Botanical Gardens attended the workshop, with Animals Asia and Change for Animals funding the programme.
This follows success with similar programmes held for zoo staff in China with improvements including puzzle and termite feeders as well as climbing facilities being installed at Taiyuan and Hangzhou zoos.  These factors greatly improved the living environment and mental stimulation of all the animals at the facilities.
Dave Neale, Animals Asia Animal Welfare Director said:
"The curriculum prepared zoo staff to initiate and maintain effective enrichment plans for all of the animals under their care. The focus is on developing safe, holistic, and goal-oriented enrichment plans. Given affordable and achievable ways to improve the mental and physical health of the animals at their facilities, staff are commendably enthusiastic about putting them into practice."
The Animals Asia team is hoping for a similar response to its animal management workshops held for 70 zoo directors at its Animals Asia's China Bear Rescue Centre (CBRC) recently. The courses helped participants to see the importance of developing behavioural management and veterinary management programmes within their own facilities.
Dave Neale added:
"We are seeing improvements at zoos all the time, and much of this comes from attendance at our workshops. Having the zoo directors join us at CBRC will have helped them to see the importance of developing behavioural management and veterinary management programmes, and therefore will provide support for staff to implement these changes back at their zoos."
BACK