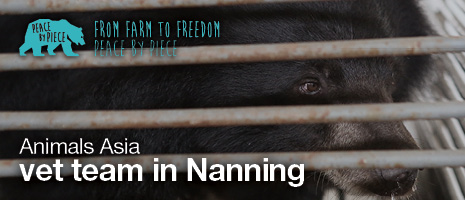 That vets and vet nurses are compassionate individuals is a given.
Working with Animals Asia – providing health checks to bears previously kept in appalling conditions – so many other qualities are required.
Focus, stamina and bravery are all necessities for these animal lovers to steel themselves to take on the process of assessing and treating the bears at Nanning.
A bear removed from pain can start the road to rehabilitation.  A bear gently put to sleep in these circumstances, is freed from pain and suffering but will never know freedom.
In very basic conditions, the vets were able health check 12 bears. Today we bring you the teams' notes on the final seven. The original five are here.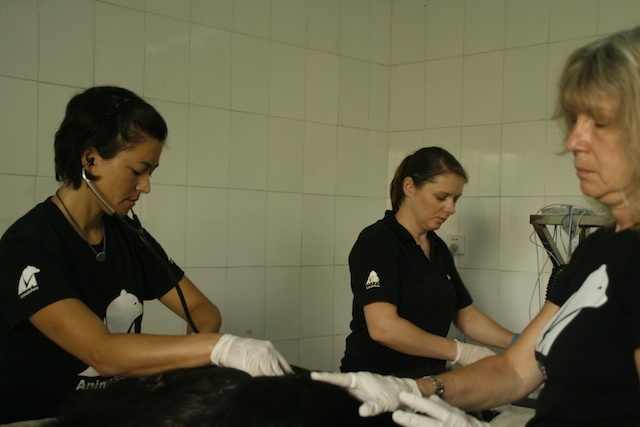 Sniffy
Sniffy is a bear impossible not to love. He's very curious, has two of the biggest Mickey Mouse ears you'll ever see and loves eating.
Resident Veterinarian Mandala Hunter-Ishikawa said:
"Sniffy had two canines removed, and was severely emaciated as a result of a multitude of factors, including dental disease and a free drip fistula. There was also evidence of another scar with adhesions to his stomach where 'surgeons' possibly tried to operate but failed.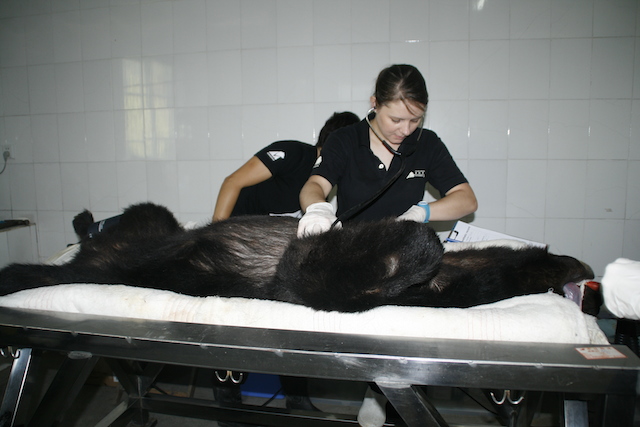 "A cyst has healed over his free drip fistula site and cystic fluid has appeared trying to protect his body. The gall bladder underneath has adhered to the abdominal wall, but there is no sign of a gall stone at this time. I can't imagine how uncomfortable he must be - every time he breathes, his liver, stomach and gall bladder move."
"Because he's so emaciated and compromised we're doing what we can, but need to be aware and concerned about his recovery in this post health check period."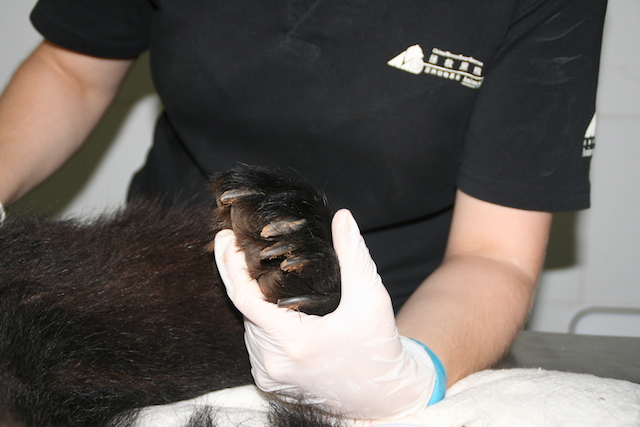 Phoenix

Phoenix is a beautiful ebony bear with a glossy coat who has really benefited from a vastly improved diet over the last few months. However, having suffered from bile extractions, Phoenix will certainly need her gall bladder removed to avoid future complications.
Resident Veterinarian Emily Drayton said:
"Phoenix has a healed free drip fistula site and her abdominal ultrasound showed that the gall bladder has adhered to the abdominal wall and the gall bladder wall has thickened. Fortunately, there was no evidence of any gall stones. Her remaining abdominal ultrasound was normal, but she will undergo a cholecystectomy."
Shafer
Poor Shafer has remained incredibly thin and is suffering from a number of health issues, including arthritis affecting all of his limbs.
His teeth were in a very bad state. All four canines had been deliberately cut back at the gum line exposing pulp and nerves and evidence of infection that vets were able to remove.
Resident Veterinarian Mandala Hunter-Ishikawa said:
"Shafer's scarred abdomen was the result of extraction and the scarring continues on to his liver. On ultrasound exam the gall bladder appeared severely thickened, with the presence of a gallstone. We are hopeful  he can be evaluated by ophthalmologists who may be able to remove the cataracts in both eyes, which are impeding his sight."
Charlotte Sometimes
Charlotte Sometimes has remained painfully thin – with only slight improvements – despite her new diet.
Thankfully, her liver and gall bladder appeared normal with no evidence of bile extraction discovered. Mercifully, her teeth were also healthier than at first feared with only one canine being removed.
Resident Veterinarian Emily Drayton said:
"Her ultrasound was good, however she did have a thickened uterine horn which could be due to a number of issues – some serious. We have started her on a long course of antibiotics and anti-inflammatory medication to correct this. She has a nice thick coat and a lovely deep crescent and we expect her to make a full recovery with continued monitoring and ongoing care." 
Sashi
On examination we discovered that Sashi's canine teeth hadn't been cut back by her captors – she'd actually smashed them out herself trying to chew her way through the cage's metal bars.
Apart from this, her health appears good, with the ultrasound showing no abnormalities and her glossy coat reflecting her nutritious diet.
Mandala Hunter-Ishikawa said:
"Sashi is handling the infection of her teeth well. Thankfully we got to her before they caused systemic illness and before the infection affected the rest of her body. With the rotten canines removed, and with her good diet, she should really bounce back." 
Olivia
Olivia's canines had all been cut back to gum level leaving them badly infected and smelling horribly.
Her head is covered in wounds from where she'd been repetitively banging it against the bars of the cage while she had also been crudely de-clawed.
Resident Veterinarian Emily Drayton said:
"Her lower canines were so rotten that the surrounding bone had become infected, and there were two fistulas draining pus from her mouth. Fortunately her abdominal ultrasound showed nothing abnormal. The nails on her fore paws had been de-clawed and two deformed claws were growing through. With her rotten teeth extracted and a course of antibiotics her bone infection should clear up and we expect her to make a full recovery."
Hazel
In the beginning of the week, Hazel was looking much better than the previous week, when she had her health check.  Even though we were very happy with her progress, there was still a concern about her mobility. She was showing signs of spinal weakness and probable pain in her hind legs when she walked. We didn't have the capability to perform radiographs at the bear farm, so it is a theory that this problem is related to arthritis and chronic poor nutrition.
She was still able to climb the few steps to get to her farm cage, but it was still a concern at that point. We were originally going to anesthetize her again this week to perform some dental work, but we felt that this may be a detriment to her current mobility issue. Anesthesia, especially a prolonged one for a dental, can be hard on a bear and may exacerbate her most pressing issue, which is her mobility. The plan is to continue pain medications and monitoring.
At the end of the week, she was reassessed after she collapsed, raising further worries about possible medical issues with her spinal column.
Her health check and consequently her post mortem revealed a catalogue of problems including a congested liver, small kidneys with areas of discolouration and a degree of cardiac disease. The prognosis for poor Hazel was very poor and the team were left with no option but to gently euthanise her.