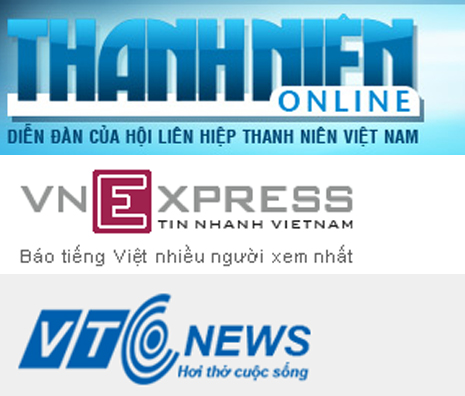 The Vietnamese government's recent acceptance of proposals by the Asia Canine Protection Alliance (ACPA) to crack down on illegal dog trafficking for the meat trade has sparked public debate played out in the country's media.
Popular newspapers and media outlets such as Thanh Nien and VnExpress have extensively covered the issue in ongoing articles, editorials and online surveys.
ACPA's progress has been covered in more than 50 articles via 38 media outlets in Vietnam. Two of these include comment boxes for feedback prompting an incredible 1,793 comments. See below for a sample of the debate.
Earlier VTC News also carried an article on the recent disappearance of 50 dog meat restaurants in the capital Hanoi.
The article profiled a number of reasons for the rash of closures including, falling customer numbers, the apathy of younger family members to continue the family business, bankruptcy, and growing fears over whether the trade was ethical.
In one particular case, the owner closed his restaurant after his eldest son, being groomed to take over the family business, died of rabies contracted through a dog bite.
The market for dog meat appears to be dropping as debate increases, with the practice considered increasingly unacceptable by many.  Earlier this month, Thanh Nien Online's survey showed that opinion was split with a small majority of 53.7 percent of the public now against the eating of dog meat.
Animals Asia Vietnam Director Tuan Bendixsen said:
"The most important element is the debate itself. If Vietnam's population and media is willing to have this debate so publicly then we are making progress. In this instance people are questioning what is being served as food and how it came to end up on dinner plates. It's not just about the cruelty – there are also issues of illegality and the health risks involved. It's in this light that ACPA's recommendations have been heeded and the government is taking action.
Animals Asia founder and CEO, Jill Robinson MBE said:
"The issue of eating dog is really challenging values. The media is proving a great platform for the debate providing readers with background and questions that perhaps individuals might not have asked themselves before. This goes beyond just the issue of eating dog – it's people considering animal welfare issues, perhaps in some cases, for the very first time."
Is it okay to eat dog meat? – comments taken from the Vietnamese media
"I have heard of several cases in which dog owners have been distraught and angry after their dogs were stolen to satisfy the Vietnamese people's demand for dog meat. Would you be sad if you were eating meat which used to be your beloved dog, your friend, who was recently stolen?" – Cuong2345678 via VNexpress
"I eat dog meat as I think it's just one kind of food. It's ridiculous to assume that eating dog meat is immoral. Muslims believes that eating pork (or even touching it) is wrong, even taboo, do you agree?" – Tất cả chỉ là thực phẩm via VNexpress
"Killing dogs is a heartless thing to do to an animal which is so close to us. Foreigners think it's disgusting." – Trần Quốc Viễn, Quảng Ngãi province via Thanh Nien Online
"All creatures are the same, they are all born and they all die. Dogs, pigs chickens, ducks, buffalo, cows...there's is no difference! All animals serve a different purpose, buffalo help with farming, cows, chicken and ducks are raised for profit, dogs protect the house. Just their habitats are different...When necessary they become meat, so what reason is there not to eat dog. Raising dogs, selling dog meat and eating dog meat are not against the law in Vietnam, so it's OK. – Phuong, Can Tho province via VNexpress
"I couldn't stop crying when I saw this scene. It's heart-breaking that the bewildered dogs have to witness their friends being slaughtered without reason. I feel so sad for them but I cannot do anything." – Khánh Ngọc via Thanh Nien Online