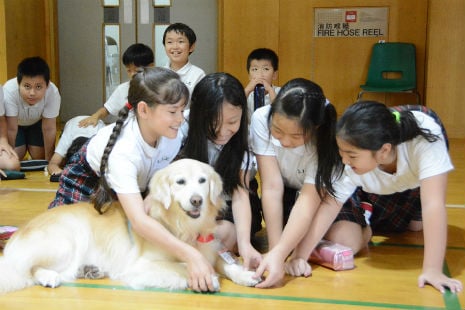 Professor Paws therapy dogs are truly canine ambassadors. On visits to schools in mainland China and Hong Kong these doggie diplomats have helped to teach children that they truly are our friends.
Many children had never previously been close to a dog before and arrived at their first lesson terrified because of lack of experience - or have been taught to be afraid by their parents. By the end of their time with Professor Paws students have not only overcome their fears - a few tears were shed when it came time to say good bye.
During visits, students learn about safety and responsible care for dogs. Animals Asia's gentle Professor Paws dogs are teaching children throughout China an important lesson in compassion.
But don't take our word for it – here's what the kids said:
Guangzhou Wan Song Yuan Primary School, mainland China
"I was scared of dogs before, but now I love them very much after learning from Professor Paws course. I know how to play with them and how to make friends with them."
- Huang Cuiyi, Grade 3
"Professor Paws course makes us know that dogs are human beings' friends and it teaches us how to care for them and be a responsible cat and dog owner. It's a pretty good course."
- Guo Yinhua, Grade 3
Guangzhou Huan Shi Lu Primary School, mainland China
"I think the Professor Paws course is very interesting and special. It gave me a chance to know more about dogs and how to make friends with them. I had a very nice time in that course." 
- Li Chengye, Grade 6
 "I think Professor Paws course is good because we could get information of dogs and know how to make friends with them. I hope it could be carried out in more places to spread better communication between human and dogs."
- Xiao Hongyi, Grade 6
"Professor Paws are tame and clean. Their guardians are responsible and taught us how to play with dogs step by step with so much patience. It even made the students who were scared of dogs before become interested to these four-legged friends. I love this course very much!"
- Yu Siyun, Grade 6
Ma On Shan Ling Liang Primary School, Hong Kong
"In Professor Paws lessons, I learned how to feed the dogs and walk the dogs. I can comb their hair by myself. The dogs are cute. I like Professor Paws lessons because I can make friends with the dogs."
-       Wong Sze Ki, Grade 4
"In my first Professor Paws lesson, I was scared of dogs. However, when I finished all four lessons, I love dogs. It is because they make me change my attitude towards dogs. The dogs are kind and lovely. I need to say 'Thank you' to Professor Paws. Thank you! 
-       Lee Tsz Kwai, Grade 4
"I like this Professor Paws programme because the dogs are cute and they teach me how to be good to animals. Dogs have different moods and will have different behaviours accordingly. In the last lesson, I felt so sad because it was my last day to have lessons with Professor Paws."
-       Tam. Hoi Sin, Grade 4
"In the Professor Paws programme, I learnt more about dogs. I knew how to take care of dogs. The most important message is all dogs need LOVE."
-       Chong Hoi Kiu, Grade 4