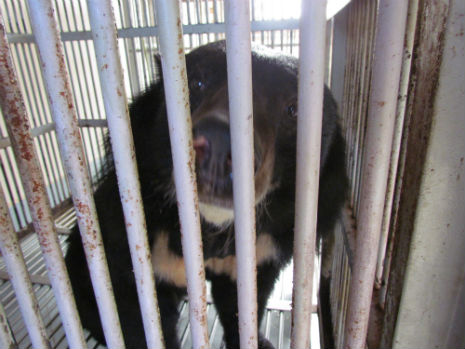 A team from Animals Asia is in Phan Thiet city today (Tuesday, 25 March 2014) rescuing the last known moon bear farmed for its bile in Binh Thuan province in the south of Vietnam.
Once rescued, the bear and team will complete a marathon four-day, 1,700km drive home to Animals Asia's Vietnam Bear Rescue Centre in Tam Dao national park, two hours from Hanoi.
The rescue of the bear – called Ti Map by his owner, which translates as Chubby Mouse – will see Binh Thuan become the second province in the country, after Hue, to become bear bile farm free.
The rescue is complicated by the fact that the bear is currently being held on the top floor of a four-storey building.
The Animals Asia team, featuring members from Vietnam, Holland, Australia and Canada, will anaesthetise Ti Map on Tuesday morning to perform a health check, before loading him onto the truck which will take him back to Animals Asia's sanctuary. On their four day journey across virtually the entire length of the country, the convoy will spend nights in Tuy Hoa, Danang and Thanh Hoa, before arriving at Tam Dao in the evening of Friday, 28 March.
Ti Map was bought by Nguyen Hong Viet in 2000 while still a cub. He then spent the next 14 years being tapped for his bile, which was sold for use by traditional medicine practitioners. As moon bears often live for 30 years, it is expected that Ti Map will spend a happy decade in retirement being cared for by Animals Asia.
Ex-bear bile farmer Mr Viet said:
"We completely trust Animals Asia, so we wouldn't give Ti Map to any other farm or centre. We believe that Animals Asia will take care of him much better than we can. We now know that bear bile farming is wrong"
Animals Asia Vietnam Director, Tuan Bendixsen said:
"This rescue is significant for us on a number of fronts. Not least because it has made another province free of bear bile farms, but also because of the reaction of the farmer and his family. The farmer's realisation that bear bile farming is a form of cruelty, and the diminishing market for the bile gives us all hope. We would also like to offer our sincerest thanks to the Binh Thuan Forest Protection Department for their role in making this rescue possible, and we are now looking forward to giving Ti Map the life he deserves at our Tam Dao sanctuary."
Follow Ti Map's long journey home by keeping an eye on Animal Asia's Rescue Timeline.