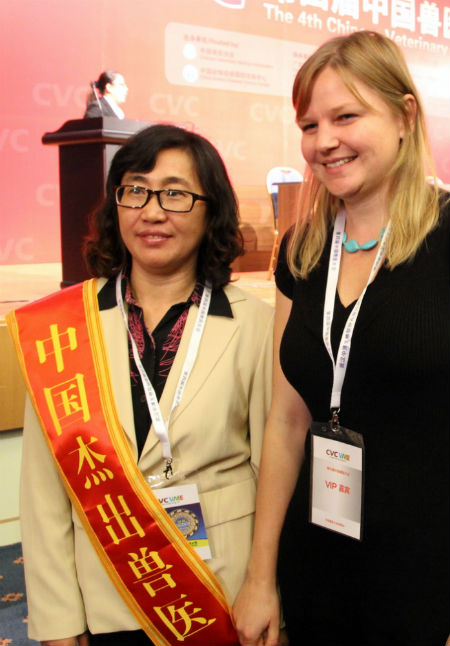 Animals Asia has welcomed the news that animal welfare looks set to become a key part of China's veterinary curriculum.
The Chinese Veterinary Medicine Association (CVMA) is working with the Ministry of Education on plans to integrate animal welfare as a compulsory examinable subject in its national examinations. The move has been applauded by China's animal welfare advocates and activists and is being seen as part of a wider movement within the country to recognise the needs of animals. 
While animal welfare is already taught at many veterinary universities, new plans will see it become institutionalised as a compulsory aspect of the national syllabus. The move will require the training of teaching staff and the production of textbooks on the issue, with materials and expertise on the topic currently in scarce supply.
Pivotal in the preparatory process will be experts like Professor Fei Rong Mei.
Recently named one of the top 10 vets in China by the CVMA for her contribution to animal welfare, Professor Fei Rong Mei is also a World Organisation for Animal Health representative and animal welfare lecturer at the Nanjing Agricultural University.
In 2013, Professor Fei worked with Animals Asia and the Jeanne Marchig International Centre for Animal Welfare Education on an animal welfare and veterinary skills teaching symposium in Nanjing, where she helped update the training of more than 20 teachers from around the country. In the 10 years she's dedicated to teaching and research on animal welfare and veterinary work, this "super-vet" has pushed animal welfare curriculum training, helped produce the country's best textbooks on the subject and played a pivotal role in preparing the ground for the upcoming developments.
Animals Asia Animal Welfare Director Dave Neale said:
"It's the right time for China to make animal welfare an examinable and compulsory subject for vets. The groundwork laid by dedicated professionals like Professor Fei Rong Mei in-country, has done so much to increase well-being and reduce suffering of animals and we very much look forward to supporting Professor Fei and her colleagues in any way we can as they make this important next step.
"Vets dedicate their lives to animals. If we can ensure animal welfare is part of their training then not only can they better treat animals, they can also continue to share the message of respect for animals day-in-day-out right across China on a massive scale."
Pic caption: Professor Fei Rong Mei pictured with Heather Bacon, Veterinary Welfare Education and Outreach Manager, Jeanne Marchig International Centre for Animal Welfare Education
BACK