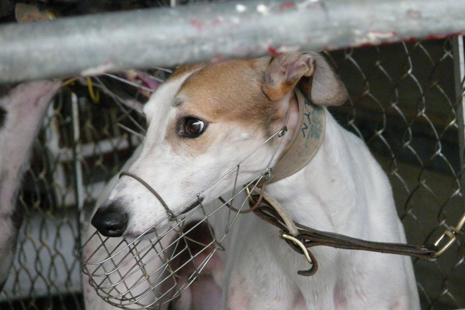 Animal advocates have united to shine a light on the cruelty of the dog racing industry by endorsing a campaign to prevent further development of greyhound racing in Asia.
The Asia for Animals conference brought together over 175 animal protection organisations. The conference took place in Singapore from January 13th to 17th and saw groups unanimously agree to back a campaign to prevent the spread of greyhound racing in Asia.
In Vietnam, greyhound races have taken place at Lam Son Stadium in the southern coastal province of Vung Tau since 2001. The facility is believed to house up to 800 dogs that are both imported from Australia and bred on site.
While the country has traditionally decried betting as a "social evil", dog racing has been an exception. Most spectators however, don't realise that dogs can spend up to 20 hours each day cramped in tiny cages. The Canidrome in Macau, one of Asia's oldest dog racetracks, has no adoption programme for retired racers and reportedly euthanises 380 dogs per year.
The pastime's popularity in Asia is at odds with global trends moving away from the sport in traditional strongholds such as the UK, Ireland, Australia and the US, as the public become more aware of the sports darker side.
According to the Association of Racing Commissioners International, gambling revenues from greyhound racing in the US fell by 67 per cent from 2001 to 2011 while the industry's tax contribution similarly nose-dived by 80 per cent in the same period.
But while people may shun greyhound racing at home they aren't always so principled when holidaying abroad. Vung Tau's dog racing track is presently the sixth highest rated tourism activity in the province on the world's largest user-generated travel website TripAdvisor, thanks to recommendations from British, Spanish, French and Norwegian tourists.
Dave Neale, Animal Welfare Director for Animals Asia (filmed below in Macau in January 2012) said:
"If the dog lovers who come to the tracks in Asia only knew that the sport results in the death of so many healthy dogs, they'd turn their backs on it. It's no longer entertainment once you know the suffering behind the facade, and that's why it's so important that international organisations present a united front on the issue."
BACK