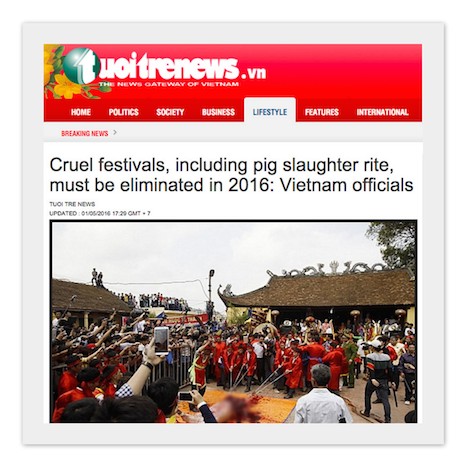 It started with a letter to oppose the ritual slaughter of a pig as part of a Vietnamese Lunar New Year tradition - it ended with Vietnam's government clamping down on ALL cruel festivals.
Staff at Animals Asia's office in Hanoi have seen nothing like it. Their opposition to the Nem Thuong Pig Slaughter festival has become a huge issue in Vietnam and the media were constantly in touch.
First opposed late in 2013 - over 60 articles were to appear in the Vietnamese press in 2014. A year later that had risen to 160 including coverage right across Vietnamese TV - including VTV1 and HanoiTV.
Among the media there was an online poll from VnExpress - showing 79% support from the general public (below) to end such cruelty.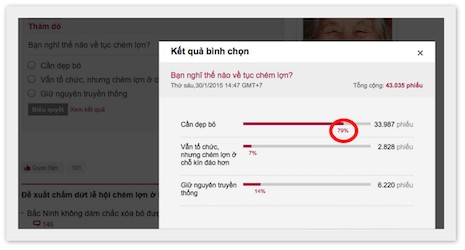 Vietnam Head of Communications Trinh Thuy Phan said:
"For many years we have been working with the media - primarily on the subject of bear bile farming - taking many reporters on bear rescues and exposing the cruelty of the bile trade. We knew that we had many friends in the media but the response to the Nem Thuong festival objection was like nothing we had seen before. We raised the issue with media but, in many ways, it was their own fascination that kept the story alive. Beyond that, with the issue being discussed by ordinary Vietnamese people everywhere, it had become a hot topic and, in the end, even government knew they must react."
From there government responses continued to snowball:
February 2015: A Member of Congress suggested that festivals that hurt animals be banned.
March 2015:  Minister and Government Office Chairman suggest elimination of rituals "not suitable in a civilised society"

December 2015: Minister of Culture, Sports and Tourism requests that "violent and uncivilised" festival be stopped
By February 2016, the government had started to put their objections into law with the Prime Minister issuing a "public order" document which specifically outlines the stopping of animal sacrifice and cruelty.
Then the Minister of Culture, Sports and Tourism issued a circular rejecting cruel rituals "which are no longer suitable".
Scheduled ahead of new government demands - the Nem Thuong Pig Festival went ahead but tried to appease politicians and the public by making the killings in private. It was a move that showed the campaigns were having an effect but Animals Asia has vowed to continue to fight the cruelty.
Meanwhile the "buffalo stabbing festival" in Buon Don, Dak Lak was reported as finishing although again there were reports of a more private, less horrific sacrifice.
But in Phuc Tho (Hanoi), Phu Son (Bac Ninh province) and Bao Thang (Lao Cai province) - buffalo fighting in festivals were stopped.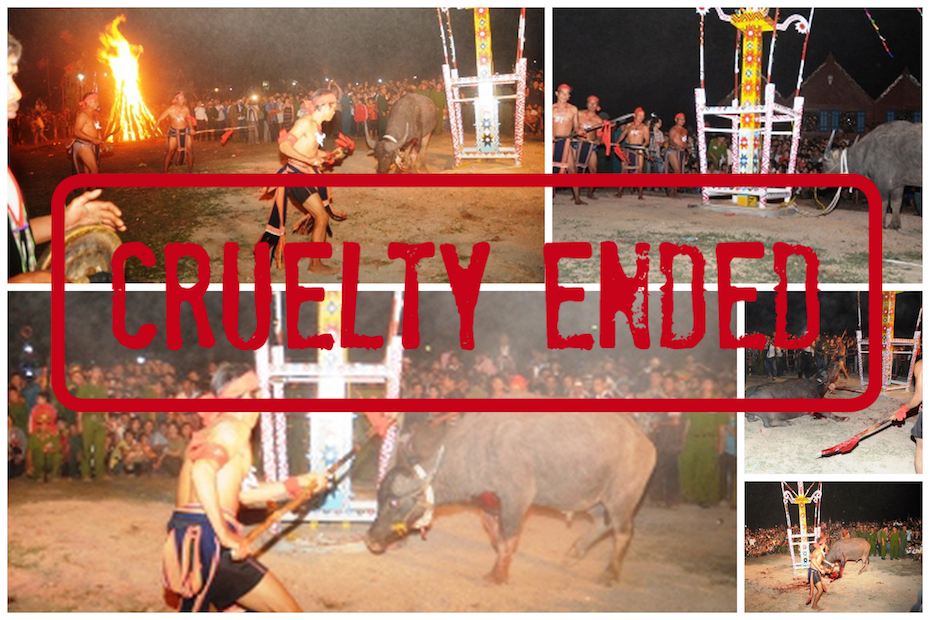 Dave Neale Animals Asia's Animal Welfare Director said:
"When we started this campaign a few people questioned why we were campaigning for 'just a pig'. Beyond the species of animal and beyond the number of deaths - was the crucial belief that animals should not be used for our entertainment and should not suffer for the sake of tradition. At the very worst end of that spectrum - animal killing for the sake of tradition is absolutely wrong. I believe that as a result of this being debated publicly there have been millions more Vietnamese who have come to that conclusion - including senior members of government."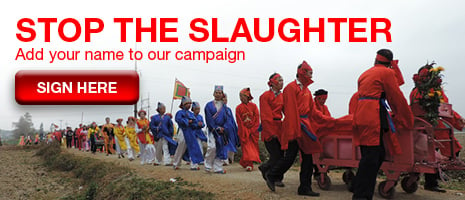 Animals Asia Animal Welfare Officer Nguyen Tam Thanh added:
"This is a campaign that is very close to the hearts of Vietnamese staff. We have attended the Nem Thuong festival, taking photographs and hosting journalists. As animal lovers this is not a pleasant task but it was a duty that has proved to be fruitful. The animals that will be saved as a result go far beyond those involved in these festivals. People are realising that a pig is not "just" anything. It is a living sentient being. With the festival prompting international headlines many Vietnamese looked again at this tradition and saw it in a new light. Vietnam has come to pride itself as a modern society - they knew that this kind of 'tradition' should not be part of our country as it is now."
BACK