Oliver. In Memoriam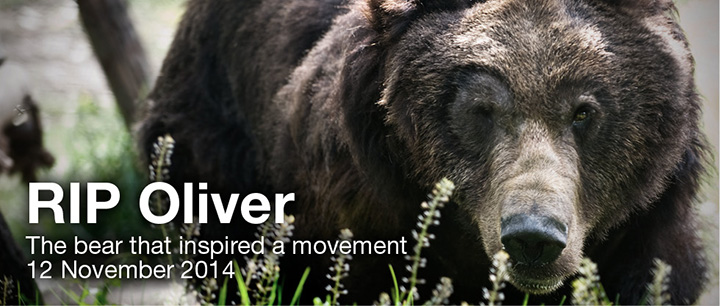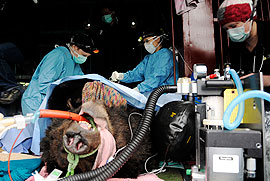 "Right from the start, Oliver's inspiring story has brought people together. I'll never forget the sea of concerned faces hoping and wishing him to pull through when our vets operated on him in a small town in Shanxi Province.
"This was during his rescue from a bile farm in Shandong in April 2010 and I think that half the town turned out to see this beautiful bear being operated on in the back of a truck in true "field surgery" style – and all were wishing him well.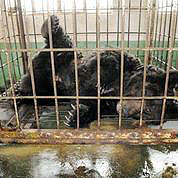 "When we rescued Oliver, this poor bear was at death's door. Forced to wear a barbaric metal jacket and bile-draining catheter, he had spent 30 years in a bile cage – his entire life.
"The four-hour surgery came after our rescue convoy was forced to divert to the nearest hospital when Oliver became gravely ill. The hospital kindly provided the team with oxygen, hot-water bottles and towels needed for the operation.
"We had scores of local people looking on during the surgery, showing genuine concern for Oliver. They were shocked to learn how the bears were abused. Many told us they would never use bear bile again.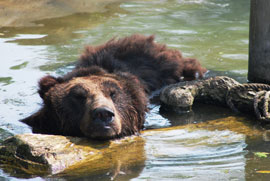 "Oliver's story continues to inspire. His rescue was captured in the movie, "Cages of Shame", which is still showing in towns and cities across the world. And his desire to make the best of his sanctuary years has moved and inspired a new generation of campaigners.
"Oliver brought people together that day in 2010 and he continues to do so today. His fight inspires ours – and his legacy will live on.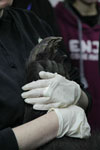 "We're devastated at his passing. Despite everything he had been through, he was the most gentle, sweetest bear. With legs stunted from decades in a cage, he loved to potter slowly around his enclosure, stopping to sniff a leaf or watch a butterfly in flight. In warmer weather, he liked to soak in the pool, his nose under the water and making us laugh as we watched him enjoying the fun of blowing bubbles."
– Jill Robinson, Animals Asia Founder and CEO
"Oliver's story is so powerful. To so many, he represents the suffering of the thousands of bears still languishing on China's bear farms. When people visit the sanctuary – from celebrities to school children – they ask, 'where is Oliver?'"
– Nic Field, Animals Asia China Bear and Vet Team Director

In memory of Oliver
Your donations will be used to continue our campaign against bear bile farming and to care for those bears we have rescued.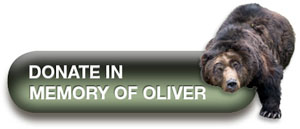 See why Oliver inspires still