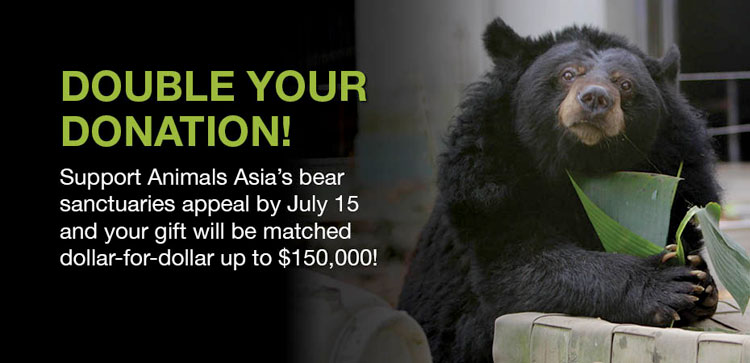 They've suffered so much. Missing limbs from poacher's snares, infected incisions on their tummies where they've been violated for their bile, flesh and bones and spirits broken by years in tiny cages.
To care for just one of the 379 rescued bears costs $928 every month, that's $30 a day.
The costs are daunting… but we know you feel the same, that these bears – who've been harmed in ways we will never fully know – deserve every day of that joy.
Could you help provide a day... or two... or more... in a bear's life?
Any gift you give will be DOUBLED. $25 becomes $50. $100 becomes $200. That's twice the impact!
The only catch is, you must give by JULY 15.

Without your support they would never know grass under their feet or the glorious warmth of that first morning sun on their backs.
Right now, whatever you contribute will be kindly matched dollar for dollar by a group of generous anonymous supporters, who care about these bears as deeply as you do. I know you won't miss this chance to give even more bears the lives they deserve.



With double the sun and moon bear hugs for whatever you can give. Thank you!