The Paw Print
We hope loved your February edition of the Paw Print, and reading about how your incredible support has transformed the lives of beautiful bears like Kay, Cinnamon and Angelica.
Itchy Bear's wish-list
Remember 'Itchy Bear'? Have a look at our gentle girl struggling with her severe allergies, and help soothe her scratch…
If you'd like to help Itchy Bear and her much needed allergy medication, and other supplies for her friends at the sanctuary, you can make her wish come true today!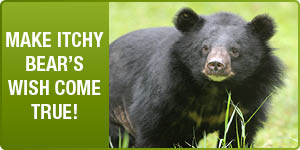 Kay's journey to Freedom...
Kay broke hearts across the world when we found her suffering on a Vietnamese bear bile farm. Watch her full transformation below...

We can only transform the lives of bears like beautiful Kay because of your kind support.
Don't receive The Paw Print? You can sign up to receive your copy below: