...we stand shoulder to shoulder with animal activists fighting this trade 365 days a year. United for Asia's suffering dogs and cats. Thank you for being a friend.
, will you chip in?
The dog you see pictured here is Bug, she was snatched from the streets by meat traders near our sanctuary in China, never to be seen again. We have to defeat this terrible industry…
Could you help more of Asia's animals, like little Bug, in danger of cruelty and abuse with a special gift today?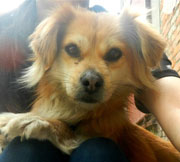 Yes! I want to help Asia's at-risk animals with a gift of...