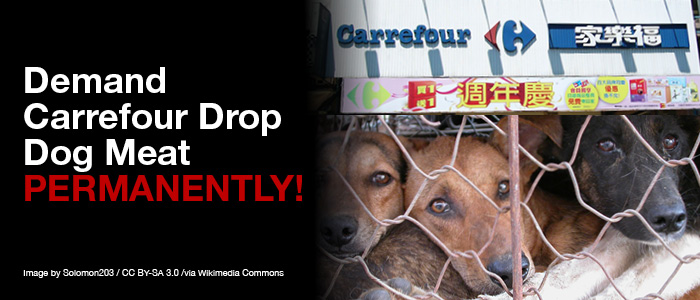 **PETITION UPDATE 16th June 2017**
An Animals Asia investigation recently exposed French supermarket giant, Carrefour for selling dog meat products in China. Read the full story and sign the petition!
Shortly after we launched our campaign, Carrefour told Newsweek that they had taken the products off their shelves.
However, Carrefour has not committed to ending dog meat sales forever, and despite repeated attempts to contact them, Animals Asia has been unable to confirm any change in their policy on dog meat.
Animals Asia first alerted Carrefour to the cruelty and suffering faced by dogs slaughtered for their meat in China in 2012. Back then, they promised they would stop selling dog meat…
Yet dog meat was back on Carrefour shelves as recently as May 2017.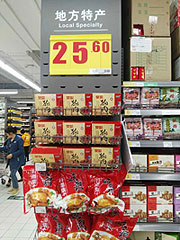 Now we must hold Carrefour to account, and make sure that this time, dog meat NEVER returns to their shelves.
Act now! Demand Carrefour Drop Dog Meat, PERMANENTLY!
____________________________________________________________

To the CEO of Carrefour, Monsieur Alexandre Bompard,
I was appalled to hear that Carrefour had been caught selling dog meat in China.
While I welcome the news that Carrefour has taken dog meat products off its shelves, I demand assurances that Carrefour will never profit from this cruelty again.
Animals Asia first alerted Carrefour to the cruelty of the dog meat trade in 2012, yet despite assurances that it would pull the products, in 2017 dog meat was back on sale in some China stores, and had been for at least two years.
Carrefour does not have a good track record when it comes to keeping its promises on dog meat. I would like a guarantee from Carrefour that it will adopt a 'no dog meat' policy', and a commitment that it will never again support the cruel and corrupt dog meat industry.
Signed,
*Work in China is carried out by Ya Dong, a consulting company wholly owned and advised by Animals Asia.