What a difference a year makes! Can you believe it was less than 12 months ago we brought you the exciting news that Animals Asia had formed a partnership with Explorers Against Extinction (EAE) to help rescue bears on bile farms in Vietnam?
Those of you who've been following Animals Asia recently will know that in 2017 we signed an historic agreement with the Vietnamese government to end bear bile farming in the country by 2022 and vowed to rescue the 400 bears who remain on the farms. 
Ending bear bile farming in Vietnam is a goal that Animals Asia has been working towards since its inception over twenty years ago. But our task is great and we need all the support we can get to pull off this monumental and extremely ambitious project.
We were therefore over the moon (no pun intended!) when EAE offered to help us on our mission. EAE is a campaign organised by the UK charity the Real World Conservation Trust whose aim is to raise awareness of the dangers facing the world's most iconic species and their habitats while raising funds to protect them. Their flagship fundraising project is their Sketch for Survival art auction which drew support (and sketches) from all over the world and some well known celebrities. In 2020, despite the Covid-19 pandemic forcing the exhibition and auction to go virtual, Sketch for Survival raised nearly £60,000 (US$ 80,000) for conservation projects, including ours.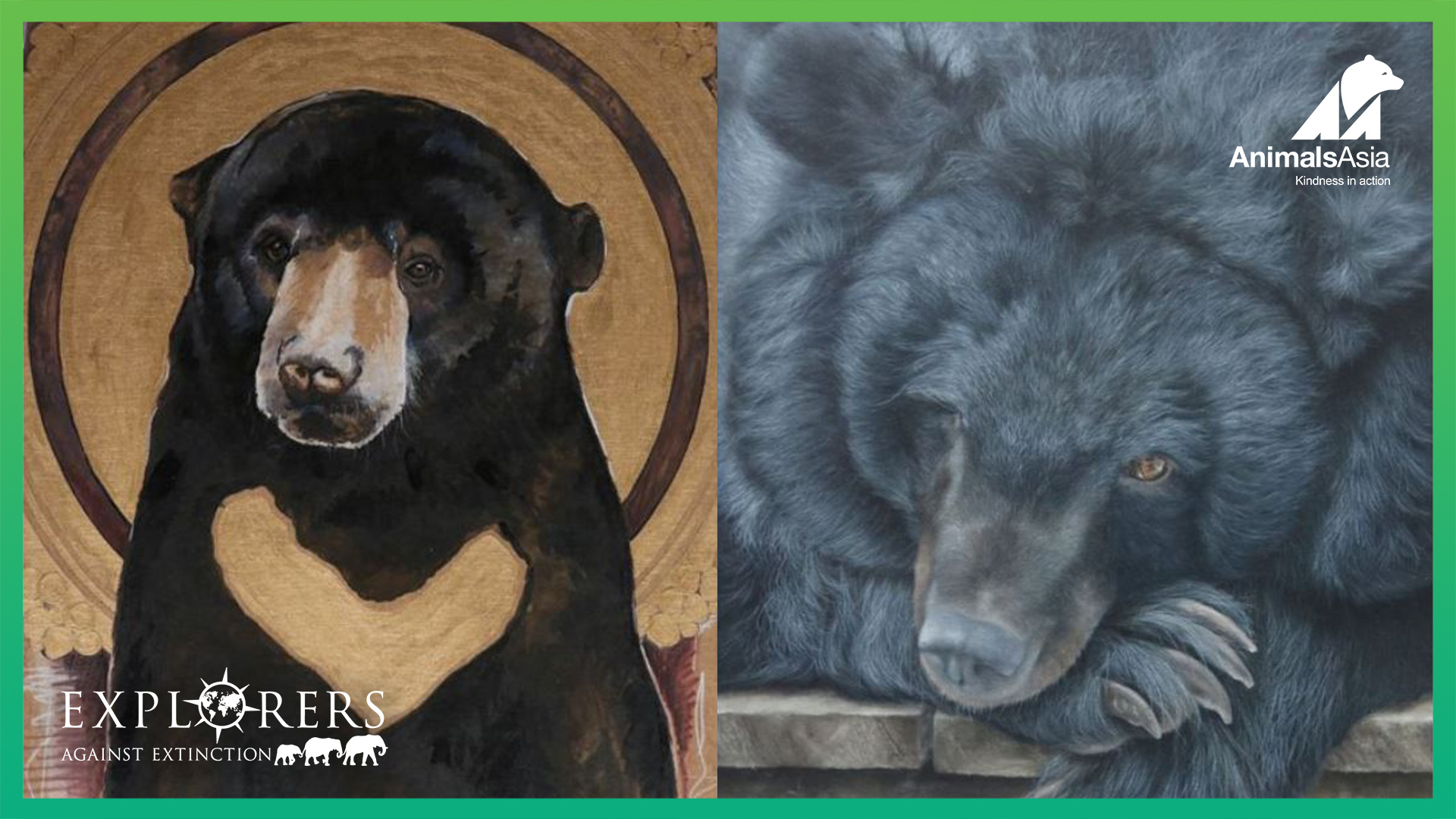 You will have seen on our website and social media channels that we have rescued eleven bears over the last year -Starfire, Storm,Uno, Anh, Em, Cotton Blossom, Florence, Clara, Alice, James and Bân. We simply could not have brought these precious bears home without EAE's support.
So today we're sending huge bear hugs and a big Animals Asia shout-out of thanks to Explorers Against Extinction! Thank you for believing in us, for your fierce commitment to protecting these wonderful creatures and for your unwavering support for campaigns such as ours.
Animals Asia Founder and CEO Jill Robinson added; "thank you for making our bear rescues possible even during the most impossible of years. Every bear rescue is a miracle and Explorers Against Extinction you are miracle makers." 
Read on to learn more about the stories of these beautiful bears who were destined for a lifetime of misery but are now free to live the rest of their days with peace, joy and contentment in their hearts at our award-winning sanctuary in Vietnam. EAE has helped rescue these gorgeous bears, now their care is down to you. Thank you for believing in them!
James & Alice 
Age: 4 years
Best friend: Each other! 
Caged side by side since they were only a few months old, James and Alice grew up together – united in their misery and grief. When rescue teams found them, the pair's terror told of the terrible trauma they'd suffered. Alice was as silent as a mouse, her eyes filled with fear. James rocked violently from side to side. It was all he could do to cope with his imprisonment. 
But now, because of you, James and Alice have met fuzzy face to fuzzy face for the very first time. Now, they can touch wet nose to wet nose, put their arms around one another, and play together in a bubble bath of their very own.
Bân
Age: 4 years
Favourite food: Sweet potato 
Your heart would have broken to see the fear in Bân's wide eyes that day. Over and over, she charged at the cage bars… the one and only way she had to try and protect herself from the pain she's come to expect when humans are near. To think of the horrors this little one has faced in her miserable four years – we know it breaks your heart too. 
But that hard shell Bân (pronounced "Bun") built around herself is softening a little more with each passing day. To see her play with friends, James and Alice, is pure joy. 
Uno
Age: 18 years
Favourite activity: Soaking up the sun
It's hard to believe, but it had been 18 years since Uno last saw the sky. Caged in a dank, windowless room, Uno was a forgotten and broken bear. 
But because of you - your steadfast support and dedication to bringing every last bile bear home, Uno is finally able to gaze up at the sun and the stars for as long as he likes!
Florence & Clara  
Age: 20 years
Favourite food: Watermelon (Florence), pumpkin (Clara)
The terrible truth is that most bile bears don't survive beyond 15 years of age. And that's what makes Florence and Clara so precious.
It was truly a thing of beauty to see these two older ladies take their first steps outside. To see the wonder in their eyes as they felt fresh, springy grass under-paw for the first time in two long and torture-filled decades on a bile farm.
Florence and Clara's 20-year nightmare is now over. And they can live their golden years out in peace and serenity.
 Em & Anh
Age: 6 months
Favourite game: Puzzle feeder (Em), bubble bath (Anh)
When we found them, two sets of the saddest brown eyes you've ever seen blinked back at us from the shadows. And it's no wonder, because at only a few months old, their little hearts were already broken. Taken from their wild habitat at just weeks old, their mothers were likely killed before their very eyes. Imagine how terrified and confused they must have been. In Vietnamese Anh, pronounced "Ang" means "big brother", and Em means "little sibling". And while not related by blood, the pair are brothers, bonded for life.  
Because of you, these little ones will never again experience the horrors they narrowly escaped.
Cotton Blossom
Age: 20 years
Favourite food: Jam, mango, dried banana - our little sweetie has a sweet tooth! 
It took us 20 hours to reach Cotton Blossom… one hour for every precious year stolen from her. And with her first slurp of honey, you changed Cotton Blossom's life forever. We were about to rescue Cotton Blossom when lockdown was enforced in Vietnam. What followed was a gut-wrenching wait … We were so relieved and grateful that she held on just that little bit longer for us. 
Cotton Blossom needs a lifetime of love and care to help repair the harm caused by bile farming. And we will provide both in abundance to build back her confidence, trust and joy. 
We'll be sharing a fuller update on Storm and Starfire (previously known as Torrent) soon, so watch this space.
We will never forget the generosity of our supporters around the world and the faith you have that we will achieve our aim: to end bear bile farming in Vietnam and bring those lonely, desperate and broken bears home for good. 

Together we can and will end bear bile farming in Vietnam.  
Thank you Explorers Against Extinction!
BACK